EMS training is considered by many fitness experts to be the future of training. Electromuscular stimulation is the fastest, safest, and most effective way to achieve your goals, no matter how ambitious they are. An increasing number of people are interested in EMS training. Belgrade, as one of the largest cities in the region, is an indicator that the popularity of this type of training is on the rise.
We talked about what EMS training is. Now we want to pay more attention to a special system used in this type of training, the AQ8 System.
By combining EMS training with AQ8, we get a combination that makes conventional training redundant and obsolete. In the text that follows, we will state why the AQ8 System is the best choice when you decide for EMS training.
AQ8 Systemis designed and manufactured in Spain and is the first wireless device that provides complete autonomy during exercise without cables and with a huge range. Some of the great advantages of this device are that eight people can exercise at the same time. It offers unlimited possibilities, such as group training in pairs, with friends, teams competing against each other, dance groups, etc. All this can be organized inside our studio in a closed space, but AQ8 System can also be used in an open space. All this is possible thanks to the wireless receiver module that is worn directly on the suit. In addition, the receiver module can work for 12 hours without recharging. The signal range of the receiving module is a minimum of 100m to a maximum of 5000m. It pairs perfectly with the Biosuit through our exclusive RF technology. Battery life is also something we are proud of because it allows 48 hours of autonomy.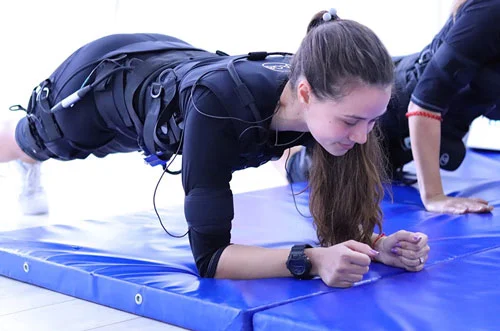 Another important information that we must mention when it comes to group training. The AQ8 System can be used by eight people, with synchronized and individual settings, which leaves room for each user to go at his own pace but to follow the training that is simultaneously provided for the whole group.
EMS training not only helps with body shaping and weight loss but also has a good effect on health. Electromuscular stimulation reduces pain in the spine, accelerates the loss of body fat and weight, reduces cellulite, and strengthens the immune system. AQ8 pulses are not perceived as being external to the body or foreign, but as a reinforcement the natural muscle tension, which achieves excellent results with maximum comfort. This is the safest way to train: it does not put pressure on the joints, which means that with this system you can see real results regardless of size, age, or fitness level. EMS training is recommended both for young people under 18 years old and for people over 90 years old.
It is also possible to combine AQ8 EMS training with alternative concepts to expand business opportunities, such as offering complex training solutions such as TRX, Hiit, dance, CrossFit, boxing, etc.